Herbert Riphagen sourcing hardy palms in the Himalayas
A lifelong interest in the world of palms and exotics has led Herbert Riphagen, partner in Gardenpalms Europe, to undertake many world-wide trips in search of beautiful plants which the European gardener can enjoy. Having grown up in the tropics, this Dutchman developed a love of palms, tree ferns and exotics. But he realised that many of the plants around him could never be enjoyed in his homeland, the Netherlands, as the winters there are simply too cold. However, as he began to travel he realised that many of the plants growing at altitude in the tropics are regularly subjected to cold and harsh conditions. The plants growing at these altitudes, although tropical, are adapted to surviving the cold and are frost-hardy. This realisation was the seed for an absorbing hobby and later a career.
Herbert began to collect seeds from various locations and noting the characteristics of the plants around him. He nurtured plants, first at home and later in greenhouses in Holland and became an authority on the subject. He was instrumental in the identification of many exciting new plants. His journeys have taken him around the world and far from the beaten track. Using local guides he is often to be seen exploring Himalayan mountain ranges, Asian jungles and South American plains, always searching for his ideal; tropical beauty adapted to European climate. His journeys have enriched our northern gardens with a rich tropical influx.
Fan palms in the far east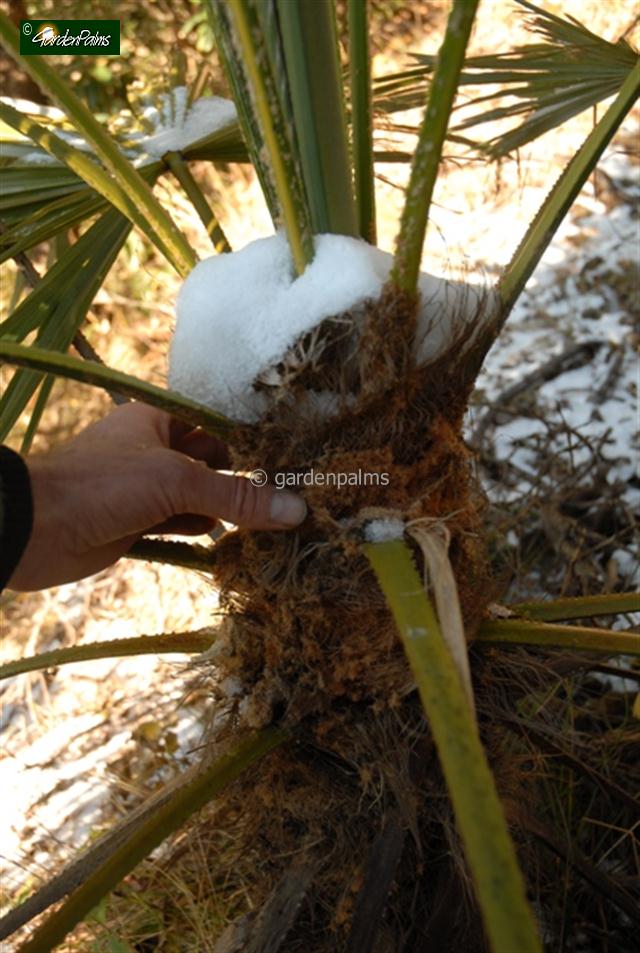 A worldwide search for hardy plants led to the discovery of hardy palms such as the Trachycarpus Takil Lands such as China, Nepal and Korea are where the most fan-palms are to be found. These are the palms we Europeans associate with holidays on tropical beaches. Tall trunks, crowns of leaves set against blue skies and a warm sun. But Herbert hiked into the alps and found these plants' hardy cousins clinging to wintry Himalayan slopes, towering elegantly and defiantly above the surrounding landscape. Subsequent planting of their seed in Europe and careful testing resulted in a number of exciting hardy beauties. The latest discovery, Trachycarpus takil, is a robust yet beautiful palm with smoky blue leaves which is both cold and wind resistant. It is set to be a best-seller and is now becoming available in all sizes from Mypalmshop.
Trachycarpus fortunei
Of course, the old favourite, Trachycarpus fortunei has been extensively researched. The quality of the plant is very dependant upon good provenance and care. The challenge has been to find supplies of the plant whose genes and nurture provide exactly the right type of plant: elegant and beautiful yet hardy and strong. Herbert Riphagen has succeeded in producing thick-trunked and well-rooted plants, with thick and luscious green crowns. A Trachycarpus fortunei from Garden palms is a different animal altogether from some found in retail chains
Trachycarpus wagnerianus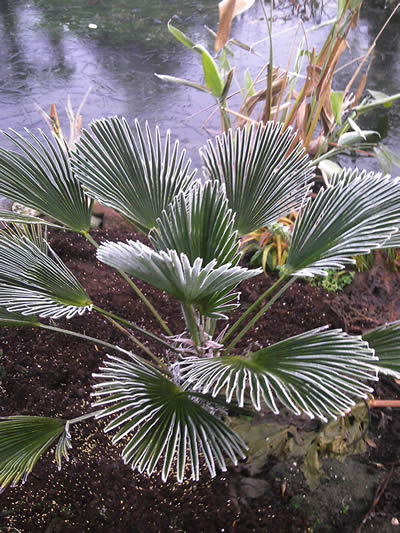 Trachycarpus wagnerianus resplendent in mid-winter
And then there was the Trachycarpus wagnerianus. The excitement of a palm which combined the beauty and all-round appeal of the fortunei with an even hardier constitution and a stronger, more wind-resistant leaf was enormous. In addition, the Trachycarpus wagnerianus turned out to be a slightly slower-growing plant with a fabulous, bonsai like appearance when young. This was a plant which became an ideal and attractive gift, growing after a few years into a beautiful garden centrepiece. The fan-palms are not only to be found in the east. In North America the extremely hardy but slow growing Sabals and Rhapidophyllums are to be found. For some an aquired taste when young, these plants produce extremely long, spiked leaves. Larger plants are extremely striking. In South America, Trithrinax palms represent the fan-palms. These resemble the Trachycarpus plants but have thorned trunks.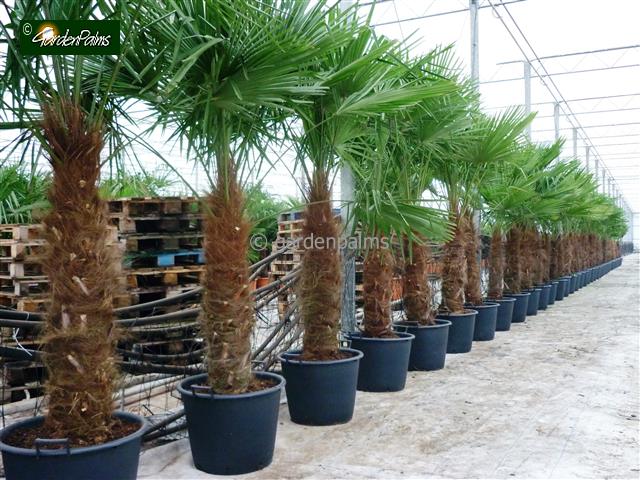 Huge stocks of Trachycarpus wagnerianus at MyPalmShop
South America – Feather palms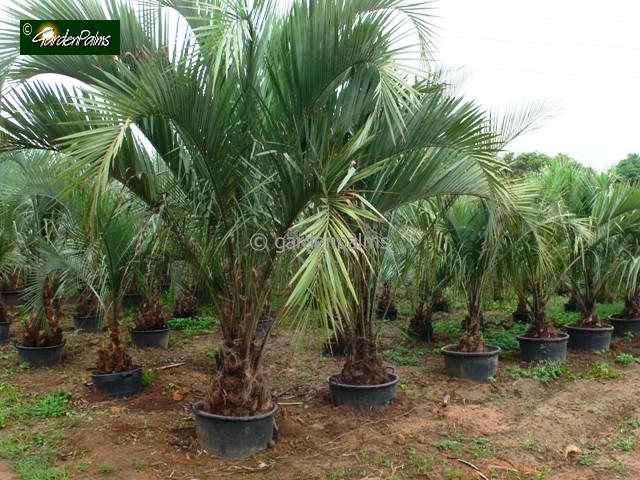 Butia eriosptha - the most cold-resitent feather palm
Brazil and Argentina in particular are the domain of the feather palms. Exploring the higher altitudes frost-hardy Butia plants were discovered; fantastic Butia eriospatha plants with their elegant arching leaves, which sway from side to side in the wind. Their appeal to us is their striking appearance combined with their ability to fit in with indigenous planting. Their arching, open panoplies encourage under-planting to suit both small and large gardens. The genus Butia furnishes us with many more species, all interesting but usually more sensitive to cold than Butia eriospatha. And Brahea armata is admired for its stunning, glaucous blue fan leaves. Collectors know the Butia capitata (Jelly palm) as the ubiquitous cerrado palm of southern Brazil and Uruguay. Butia yatay is considered the most beautiful of these fan palms, admired for its graceful and superbly architectural trunk. All of these plants can be grown in our gardens if the advice on these sites is followed. As ever, the continent surprises us with intriguing and less well known plants. The Jubaea chilensis from Chile turns out to be a slow growing and suprisingly frost resistant giant. Butia crosses such as the Butyagrus have their own elegance and beauty and stunning surprises such as the more sensitive silvery-blue giant, Bismarkia nobilis take our breath away. This plant, however, needs careful management in the cold and is typical of the type of plant Herbert Riphagen tries to find with better cold-resistance.
Australasia

Tree ferns in Australasian jungle
Herbert Riphagen's hobby developed into an interest in ferns. He became interested in the increasingly fashionable and superbly architectural tree ferns which were beginning to grace town gardens, terraces and restaurants. Explorations in Australia, Tasmanina and New Zealand furnished him with information about tree-ferns growing at higher altitudes. He collaborated with experts in these countries and soon began to import high quality plants from the cold, mountainous areas. These efforts produced a winner; the Gardenpalms Dicksonia antarctica tree-fern is frost resistant and has a fabulously gnarled, dark trunk crowned with fantastically elegant leaves, arching and swaying in the wind to a length of two metres! This plant gives us a similar feel to a palm-tree, providing a protective canopy at, say, the pool side under which we can enjoy a refreshing drink. It's not a slow grower, either, adding 10cm to the trunk length in a good year. It is quite cold resistant and Gardenpalms has worked out how to provide some protection in very cold weather. It's possible to arrange transport of tall trunks from Australia and re-root them here, enabling the business to supply a whole range of sizes very economically, from plants suited to small gardens to metres-high specimens which provide immediate and stunning effect to commercial properties. Dicksonia sellowiana is a collector's item but is as hardy as the Dicksonia antarctica. New leaves are golden brown, and the trunk is more slender than that of the antarctica.

Huge stocks of Dicksonia antarctica at MyPalmshop
There are more sensitive tree-ferns for the enthusiast who is willing to take a little more care in the winter. Dicksonia squarrosa boasts a slender, almost black, elegant trunk. And a range of Cyatheas delight us with their curiously gnarled and colourful trunks and leaves. Cyathea medullaris is the largest tree fern; with its long, arching dark fronds it's an absolute showstopper. These plants are for the discerning gardener!